Downtown Crossing - 9 Spring lane
Boston, MA 02109
617.338.6328 or 800.259.7616 (toll-free in the U.S.)
In Boston since 1995
We are conveniently located in Downtown Crossing in Boston, at the corner of Washington and Spring Lane (Oldest street in Boston. Ca. 1630). We are about a one minute walk from the "Old South" Meeting House. We offer 40,000+ select titles, from medieval manuscript leaves to recent mysteries. We have extensive holdings in art monographs, decorative arts, poetry, history, and literature, among others. Our antiquarian selection is quite strong. We also offer bins of old prints and engravings spanning from the 1600's to 1940's. The "State Street T stop" (orange line and blue line) is approximately 90 feet from our front door (at top of stairs, go right, and look to the right and you will see our door or sign depending upon which exit you use. The Green line "Gov. Center T stop" is a few minutes walk away). The Spring Lane store is on the Freedom Trail and intersects Washington Street. Browsers are always welcome! We close but two days a year (Thanksgiving and Christmas day) so we will likely be open anytime you are in the area. We are open 7 days a week.
In our store and on our site, you will find a diverse selection of books, with particular emphasis on the arts, architecture, history, literature, philosophy, and religion. We also have a large selection of antique prints and maps.
We strive to maintain an interesting and affordable collection of hard-to-find books and prints for both the scholar and the collector.
Our "brick & mortar" location is open 7 days a week; stop in and pay us a visit next time you are in Boston.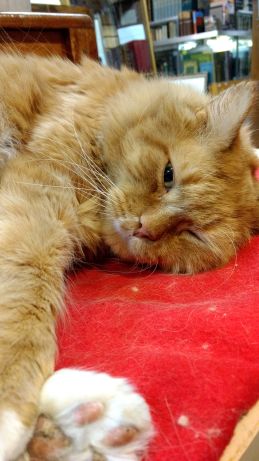 IN MEMORIUM: Leo(b.? - May 17th, 2017) Leo the Cat. A great bookstore cat for the last two years. Loved by many-he will be missed. (Leo was an older cat and suffered kidney failures on May 17th)