The 16th Century Burdett-Coutts - Plimpton Chaucer.

(And possibly the Chaucer House-Warton-Tyson-Burdett-Couts-Plimpton Chaucer)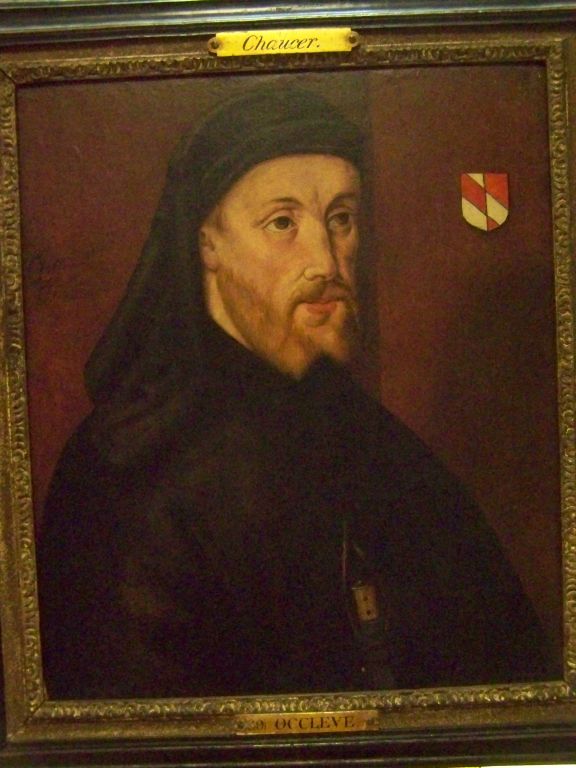 Out of public view for the past 75 years (formerly hung in the Plimpton Library at Columbia University, on loan from the Plimpton Collection). In only two collections for the past 175 years and mostly out of the public view. Was part of the distinguished and important Baroness Burdett-Coutts collection of English portraits***** from the 19th century until its sale at the famous Christies May 4-5, 1922 auction of the Burdett-Coutts Collection where it was bought by George A. Plimpton for the Plimpton family Collection, where it has remained since. Professor Reginald Call, in his 1947 essay on the Plimpton Chaucer, in trying to further the provenance, speculated, based on reasoning and good evidence, that: as Thomas Warton owned, "a very old picture of Chaucer on board, much like Occleve's formerly kept in Chaucer's** house, a quadrangle stone mansion at Woodstock in Oxfordshire"* (which John Aubrey further described with measurements matching those of this Chaucer portrait) that it is perhaps Thomas Warton's Chaucer (one of the "missing" known and described early Chaucer portraits, which by process of eliminating the materials and exact dimensions of the other known and described, "missing" Chaucers leaves us with the Plimpton Chaucer as the only likely candidate known to date) which Warton would have acquired in the 18th century. It then may have passed to the Rev. John Tyson, (two years after Warton's 1790 death) who let an engraver do a very similar likeness of this portrait for the Gentleman's Magazine (Vol LXII, pt. 2, July-December 1792), and from thence on to Burdett-Coutts (either the father or the Baroness) and then to the Plimptons. It was common at that time (15th/16th century) for portraits of former proprietors of homes to pass along to the next proprietor, often hanging for significant amount of time, over various owners.
Painting on wooden panel, dismantled and examined by renowned Professor Julius S. Held*** in 1947, who felt it to be 16th century at the very latest (exhibiting characteristics of both 16th and 15th century paintings****). The portrait is 15.5" high by 12.75" wide, inside. The frame is of black wood, around a gilt inner frame. "Much restoration over the last 400 years, most notably the beard has been filled in with a bronze paint and some restoration has been made around the nose (All from professor's Held and Hill) but even with the restoration, is still in a fair state of preservation." (It should be noted that the Bodleian Chaucer also had much restoration over the years.)
A chance to own one of the earliest Chaucer portraits, one of the few not in institutional hands.

*See John Aubrey, Brief Lives, ed. Andrew Clark, Clarendon Press, 1898, Vol I, pg. 170.
** Much speculation as to whether Chaucer actually ever lived in the Chaucer house (see Marshall, The Early Years of Woodstock Manor. Oxford, 1873, Chp.VII) but certainly his son Thomas did, and thus the "Chaucer portrait hanging from the earliest times" (John Aubrey) is perfectly reasonable.
***Julius Held, was an art historian renowned for his studies in 16th- and 17th-century Dutch and Flemish art and a longtime professor of art history at Barnard College. Dr. Held was one of the last surviving members of an immensely influential generation of German-trained art historians, including Erwin Panofsky, Max Friedlander and Millard Meiss. He was recognized for his expertise on Rembrandt, Rubens and Van Dyke, and his scholarship was noted for a wide-ranging approach that included the study of social history, analysis of iconography and exacting connoisseurship. Dr. Held was frequently consulted by institutions and individuals seeking to determine the authenticity of old master artworks. His two-volume study ''The Oil Sketches of Peter Paul Rubens'' (Princeton University Press, 1980) is considered a landmark in a field where questions of authorship are especially difficult to sort out because of the involvement of assistants in the productions of artists' workshops.

****Closely hand examined and dismantled by Held and Hill for inclusion in the essay by Hill: The Plimpton Chaucer and Other Problems of Chaucerian Portraiture. Speculum 22 1947, pgs 135-144
***** In the Burdett-Coutts collection and in the Christie catalogue listing this Chaucer was thought to be by "Occleve" (Hoccleve) thus the metal label on the portrait. This likely because of an old handwritten notation on paper, pasted to the cradling on the inside of the frame, (Held and Hill thought in an 18th century, early 19th century hand) that mentions Occleve. Occleve commissioned but did not actually paint things himself and Hill and Held felt the earlier Ellesmere Chaucer to be more similar. In any event, an early, erroneous attribution.
Note on Chaucer portraiture: All Chaucer portraits extant in both manuscript form (Hoccleve, Ellesmere, Landsdowne) and the small early portraits ie; No. 320 National Portrait Gallery, Bodeleian, etc) are all "memory portraits" at best. No extant portrait of Chaucer during his lifetime exists; Hoccleve's is closest to his lifetime, being within a short period of his death. The Plimpton Chaucer's early provenance is as murky as No. 320 in the National Gallery which only traces back to early 1800's before lost, The Bodleian portrait traces to early 1700's, has been retouched and restored, and in the article by Spielmann is said to "owe much of its prestige chiefly to where it resides." The UCLA Chaucer is without provenance, though much speculation that it is a very early, at least among the earliest of Chaucer portraits. The Fairfax-Murray-Seddon portrait, now at Harvard, has one of the best, though not ironclad provenances having been listed within inventory of Llanshaw Court for several hundred years before being given in 1803 to Benjamin Dyke, but Spielmann stated" it is still not possible to claim for it any positive authority".